9 Mar 2020

3:45 PM
Tandem Health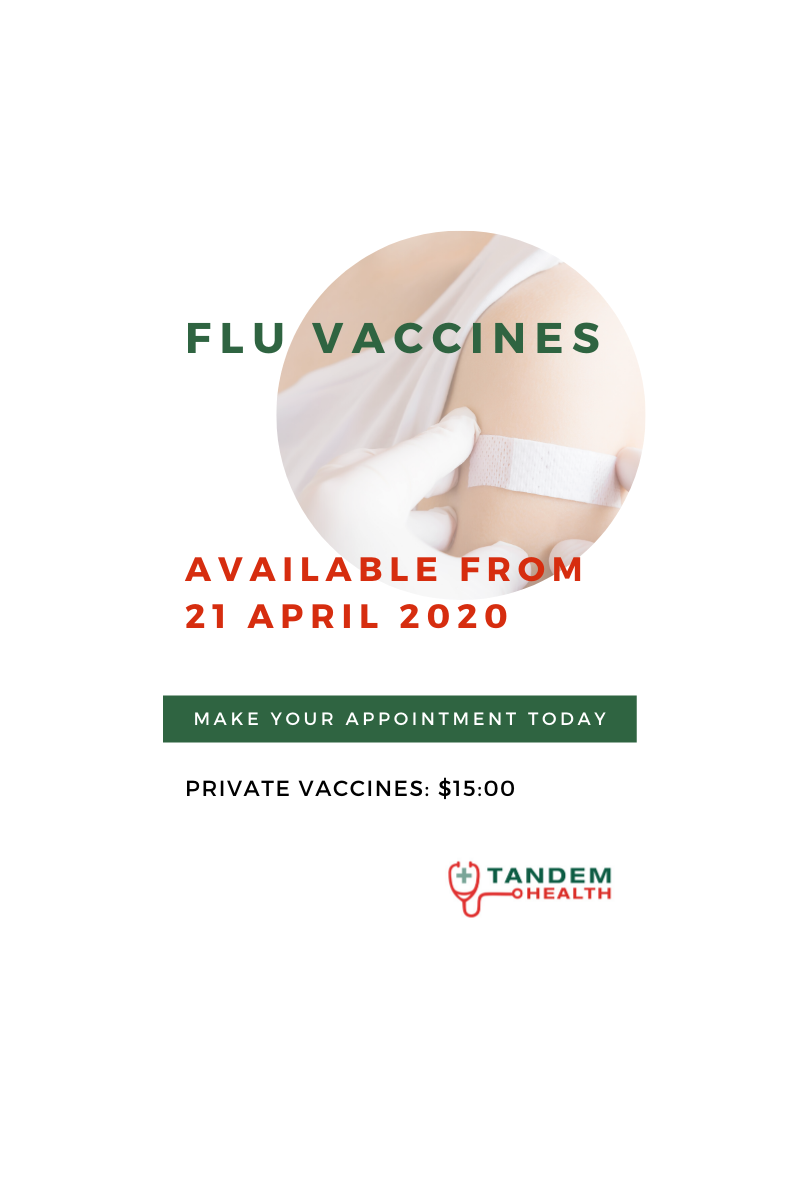 The winter months mean flu season, a busy and important time for patients and the medical centre. With this in mind, we'd like to share some information about flu vaccines throughout 2020.
Private and free flu vaccines ARE available at the Labrador Medical Centre. Please speak with our team to make your appointment. Private vaccines are $15.00.
If you are over 65 or meet the Government funded vaccine criteria (detailed below), you are entitled to a free flu vaccine. If you're unsure or would like more information your doctor can determine eligibility during consultation.
The free over 65 specific vaccine is ONLY be available at medical centres. Pharmacies do not have the free over 65 specific vaccine as they receive private vaccine stock only.

Eligible groups for the FREE vaccine:
• All people aged 6 months to less than 5 years
• All Aboriginal and Torres Strait Islander people aged 6 months and over
• Pregnant women during any stage of pregnancy
• All people aged 65 years and over. (Specific vaccine - Fluad Quad)
• People aged 6 months and over with medical conditions which increase the risk of influenza disease complications

WHEN SHOULD I HAVE MY VACCINE?
The Australian Department of Health statement regarding timing of the vaccine: Optimal protection against influenza occurs within the first three to four months following vaccination. Timing of vaccination should aim to achieve the highest level of protection during peak influenza season. This usually occurs from June to September in most parts of Australia. Vaccinating from April provides protection before the peak season.
If you have questions about the timing of your vaccine, please speak with your doctor.

FLU VACCINES DURING THE COVID-19 PANDEMIC - PATIENT FAQS
Q- Do I need to book an appointment for my flu vaccine, or can I walk in and request the vaccine on the day?
A- An appointment is required - please call 5552 1888 to speak with our team or download the HotDoc App to book your appointment online. Due to the current pandemic, screening questions are asked at the time of booking and on arrival for all patients and visitors entering the Surgery. Therefore, walking in unannounced is not an available option at this time. Vaccine stock levels also require appointment allocation to ensure booked patients correlate with vaccine stock levels for the day.
Q - Why is flu vaccine stock so limited (I do not want to wait to receive my vaccine)?
A - Please be aware that QLD Health controls vaccine distribution and dispatch. Medical Centres have no control over vaccine arrival times or volumes, despite early and regular ordering. Additional vaccine appointments are made available as each delivery arrives. Our team can provide information about available booking dates and times for flu vaccines and are happy to assist with any questions.
Q - I'm worried about coming into the Surgery for my vaccine due to COVID-19, what options do I have and what protections are in place at the Surgery?
A - Well done to everyone who has been staying home and following isolation and distancing advice - great effort. The Practice has implemented various enhanced infection control, screening and distancing measures and efforts to protect our patients and team during the pandemic. Examples include spaced seating, outdoor seating, enhanced cleaning protocols, appointment spacing etc. You are also welcome to wait in your car until your doctor is ready to see you. Simply let our team know you have arrived (give us a call) and we will call you into the Surgery when the doctor is available for your consultation. This eliminates the need to spend extended time in the waiting room.
Q - Is the Surgery offering a car park flu clinic?
A - No, all vaccines are administered in the Surgery. However, as outlined above we have and will continue to make the Surgery as safe as possible for our patients and our team.
Q - If I develop cold, flu or COVID-19 like symptoms prior to my flu vaccine appointment, should I still arrive as normal, what should I do?
A - If you develop any of the above symptoms prior to any appointment, it is vital that you call before entering the Surgery so our team can triage appropriately. If at all unsure, please call first. Telephone consultations are available to patients of the Practice who have seen a doctor at the Practice face to face within the last 12 months and hold a current Medicare Card - your doctor can assist and advise.

If you would like to read more Practice specific information about COVID-19 including patient resources and links please CLICK HERE.